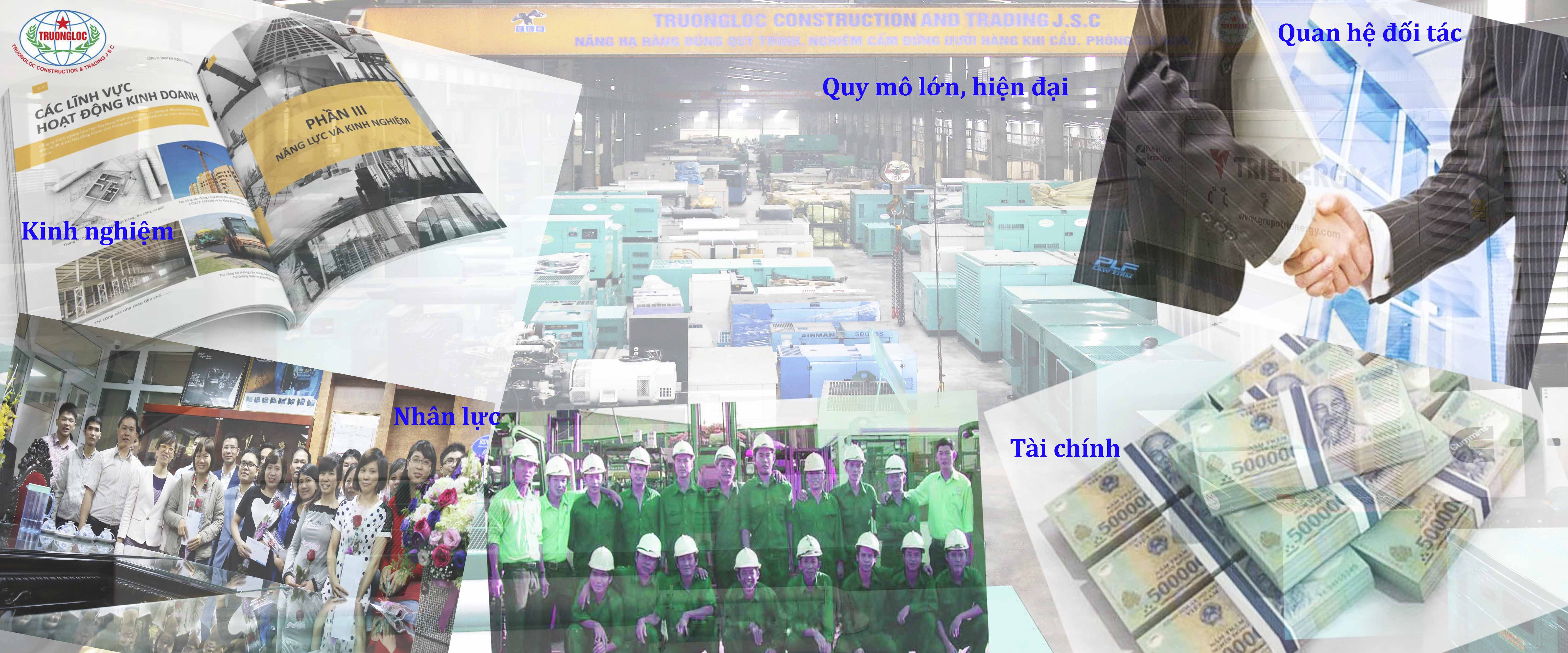 1. PRODUCTION EXPERIENCE - BUSINESS
Asian. Produce:
- Investment in factories, manufacturing and assembly of the generator on a 10,000m3 area from 2000 to present.
- Investment in additional production line automatic machines, CNC machines, shearing machines, punching machines, powder coating line to produce the generator assembly, assembly of ATS and related electrical equipment from 2006 to present.
- Investing more modern technological lines for production and assembly generators brands TL Power from 2008 to the present.
b. Business:
- Operate the generator used, compressors from 1986 to this year.
- Sales of maintenance services, maintenance and repair of generators, compressors and construction machines from 1986.
- Business rental generators, compressors from 1986 to present.
Abundant human 2. - SKILLED, QUALITY MANAGEMENT SYSTEM STANDARDS
Asian. Employees: More than 500 people, including
- Managers: 10 people
- Technical staff: 50 people
- Business Staff: 100 people
- Office workers: 30 people
- Technical workers skilled, depth: 300 people
b. Quality Management System: ISO 9001: 2008
3. FINANCIAL CAPACITY
Asian. Own capital: 150 billion VND
b. Borrow funds from banks: 200 billion VND
C. Average annual revenue: 500 billion VND
4. ADVANCED PRODUCTION LINES - LARGE SCALE
- Factory production scale 12,000m2, built on an area of ​​15,000m2
- The system of machinery and equipment investment is a modern, high-tech
5. DISTRIBUTION SYSTEM - outlets spread DOMESTIC AND FOREIGN
- Headquarters: Industrial complex Trieu Khuc village - Tan Trieu - Thanh Tri - Ha Noi
- Nhà máy sản xuất: Km 12 +120 Đại Lộ Thăng Long, Hà Nội.
- Chi nhánh Thanh Hóa: Cổng số 1 Dầu khí, Thôn Bản Cát, Xã Mai Lâm, Huyện Tĩnh Gia, Tỉnh Thanh Hóa.
- Chi nhánh Đà Nẵng: Số 60 Đoàn Hữu Trưng - Phường Hòa An - Quận Cẩm Lệ - Thành phố Đà Nẵng.
- Chi nhánh Thành phố Hồ Chí Minh: Lầu 3, Số 215, Đường Nam Kỳ Khởi Nghĩa, P7, Q3, TP. Hồ Chí Minh
- Chi nhánh tại Myanmar: Industrial Zone 5, Halinag Thar Yar Township, Yangon City.